---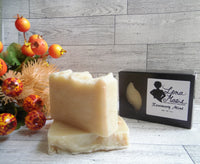 Welcome to the Lena Mae's family, our new Rosemary Mint Soap Bars, No touch of color or beautiful swirls just a beautiful bar ready to be added to your daily routine.
 Rosemary Mint, A delightful way to start your day with the refreshing bleed of Rosemary & Mint .For the complete experience, pair this bar with our Rosemary Mint Sugar Scrub and end with our creamy Triple Butter body butter or After Shower Mist.
Ingredients: Shea, Mango and Cocoa Butter, Avocado oil, Coconut oil, Jojoba oil, Distilled Water, Seed (Castor) Oil, Sodium Hydroxide, Sodium Lactate, Himalayan salt, Skin safe fragrance oil,  
_______________________________________
Because of the handcrafted nature, every soap bar will have its own unique appearance which may vary slightly in color, pattern, design and shape.
 For maximum enjoyment please allow soap bars to dry completely between uses
 Each bar will weigh approximately 4-5 ounces.