---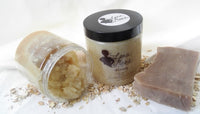 Emulsified Triple Butter Sugar Scrub: not your traditional sugar scrub whipped with Soap, Oils, and Butters.
 INGREDIENTS: Whipped Soap, Shea & Mango, Kokum Butters, Cocoa Butter, Organic Sugar ,Olive Oil, Camellia Oil, Herb-Infused Oils, Candelilla Wax, Fragrance & Essential oil 
Honey contains natural oats.
How to Use :Place the desired amount of Scrub into the palm of your hand, apply a small amount of running water and gently massage over freshly cleansed skin; rise off with warm water, and gently pat dry using a clean towel. Now step back and admire your full body glow.
 Bath or Shower only!