---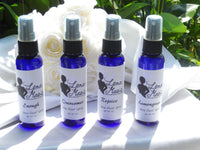 Try our fantastic Area Reset spays to support you with getting through the day.

Don't forget to take care of yourself while taking care of others.
Several unique fragrance blends conjoined to shift the mood and reset the area. 
Ingredients: Herbal-Infused Distilled water, Conjoined with our Fragrance & Essential Oil blends, Vegetable Glycerin. 

Scents
Overcomer -The unique blend has hints of Lavender, Bergamot, Jasmin, and citrus notes.
Floral+ Sweet+ Refreshing+ Relief =Overcomer
Rejoice -The unique blend of Berries, Bergamot, Grapefruit, and Lavender.

Sweet+ Fresh Citrus+ Floral= Rejoice 
Enough-The unique combination of Lemongrass and Tea tree, Lemon

Citrus +Refreshing =Enough
Renew -The unique combination of lemongrass, Sweet Orange, Bergamot.

Citrus +Floral= Renew
Relax-This unique combination of lemongrass, Lavender, and Sweet Orange.

Relief +Energizing +Soothing= Relax
Restore-This unique combination of Rosemary,  Lavender, and Jasmine.
Relief + Refreshing  +Soothing= Restore