---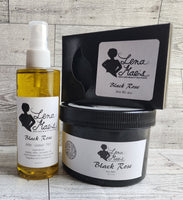 Triple Whipped Body Butter will leave your skin feeling silky smooth and hydrated. This product is perfect for Summer, Winter, Spring, and Fall. It's great on elbows, knees, cracked heels, and your everyday hydration!  
Our Body butter is loved and enjoyed by all..
Keep in a cool area to prevent melting ,if your body butter does melt place it in a cool area and will return to solid form and you can continue to enjoy.
Luxury Soap Bar ,
Ingredients: Shea and Mango Butter, Avocado Oil,  Coconut Oil, Jojoba oil, Distilled Water, Seed (Castor) Oil, Sodium Hydroxide, Sodium Lactate, Himalayan salt, Skin safe Fragrance & Essential Oil, Mica soap Colorants.
Because of the Handcrafted nature, every soap bar will have its own unique appearance, which may vary slightly in color, pattern, design, and shape. 
For maximum enjoyment, please allow soap bars to dry completely between uses.
 Each bar will weigh approximately 4-5 ounces. 
Lena Mae's After Bath & Shower Mist is a perfect everyday go-to product. It's a fantastic combination of Organic Herbal- infused Oils such as Jojoba Oil, Argan Oil, Avocado Oil, Olive Oil, Vitamin E, and Fragrance Oil.
4 oz Bottles.
This fantastic bundle of goodness includes 1-4oz After Shower Mist + 1-8 oz Body Butter and 1- luxury Soap bar